The village Hellissandur was once a major fishing centre and had approx

imately

60 seasonal fishermen's huts in the year 1700 and one of those has been restored and stands proud today. In The Maritime Museum, the oldest existing rowboat in Iceland (1826), is on

exhibited

. Rif was one of the most important commercial ports on Snaefellsnes until the river Holmkelsa changed its course and ruined the harbour. The harbour has since been rebuilt and many fishing boats call here and the fish is processed in various places in the Snaefellsbaer town.

Large artic tern colonies are near the village. The tern is a much favoured bird in Iceland not the least due to how aggressively this small bird defends its breeding grounds, even adults can be scared off.

Hellissandur and Rif merged with Olafsvik

, Arnarstapi and Hellnar,

and

the new community is

called Snaefellsbaer, where the tourist trade

develope

s rapidly

in the immediate proximity of the National Park Snaefellsjokull

.

Hellnar

32 km

<

Hellissandur >

Olafsvik

9

km

,

Grundarf

jordur

37

km.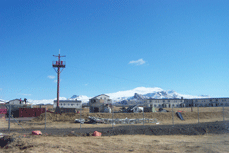 GUFUSKALAR