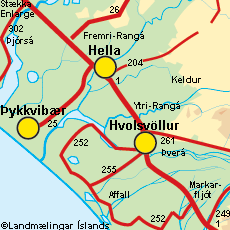 The small town Hvolsvollur, one of the few inland located towns, started developing in the thirties, when most of the streams and rivers in the Southwestern Lowlands had been bridged. The inhabitants base their livelihood mainly on services rendered to the agricultural surroundings, the

meat processing

for the domestic market and tourism. The town is situated in one of the most important Saga regions of the country, with some of the main stages of the renowned Njal's

Saga. Those who are interested in the Icelandic Sagas should not miss visiting the Njala Centre in town.

Salmon and trout fishing in the nearby

, prolific

rivers is very rewarding. The Bus company

Kynnisferdir

ltd. offers daily tours to Thorsmork in summer, Saga tours in the area and scheduled services to the capital.

If you are travelling to the east from Hvolsvollur, you should take a look at the current road and weather conditions in Mt Pass Vikurskard.
The distance from the capital is about 106 km.

13

km

Hella

<

Hvolsvollur> Skogar

48 km,

Thorsmork

51

km.



GUNNARSHOLT


EYJAFJALLAJOKULL