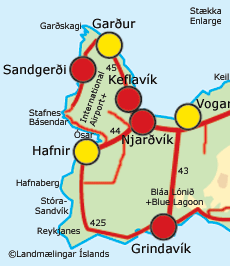 The town is also known by the name "The Beatles Town" because of a sixties rock band called Hljomar. A rock and roll museum commemorates those times. The annual Summer Light Festival late in summer is enjoying an increasing popularity.

Keflavik is one of three united communities called Reykjanesbaer. It is the most populous of the three. Originally it was a trading post from the year 1590 and later a fishing and fish processing community started developing around the merchants houses.

Nowadays, Keflavik is a thriving service and industrial centre.

Keflavik International Airport is an important factor in the everyday life of the inhabitants. Tourism has become an important basis of livelihood and to serve the visitors properly, new hotels and restaurants have been established.

Reykjavik

48

km <Keflavík> Grindavik

020

km, Blue Lagoon

16

km, Keflavik Airport 3 km. Hafnir 10 km.
Picture from town Keflavik in Reykjanesbaer
close to the International Airport Leif Eriksson