Lake Myvatn is the country's fourth largest natural lake. It abounds in lake char and is netted by the farmers during summer and ice fishing is practiced in winter. The lake area is known world wide for its exceptionally many breeding duck species (15-16) and the abundance of other avifauna. The lake's surroundings show such variety in landscapes and amazing geological formations, that the visitors have to spend several days there to enjoy them fully. This area is extremely volcanic. Nine eruptions took place there during the period 1975-1984 and the continental drift was measured 4,8 m. This show of nature's immense power gave the scientist the first real opportunity to study the plate tectonics on dry land. There are two hamlets on the lake, Skutustadir and Reykjahlid. Both offer good restaurants, accommodations, bike rentals, car rentals, grocery shops, swimming pools, petrol stations with car washes and a variety of sightseeing possibilities. Further information on the lake on the Angling Site.
The distance from the capital to Reykjahlid is 494 km and to Skutustadir 478 km.
After the establishment of Europe's largest national park, Vatnajokull, on June 7th, 2008, Myvatn became one of its visitors' centres.

Akureyri 99 km, Husavik 54 km <Myvatn> Hrossaborg 43 km, Egilsstadir 165 km, Herdubreidarlindir via (F-88) 103 km. Kverkfjoll 155 km (via Herdubreidarlindir 165 km). Kidagil 106 km (Via The Sprengisandur Route) from Reykjahlid.

MYVATN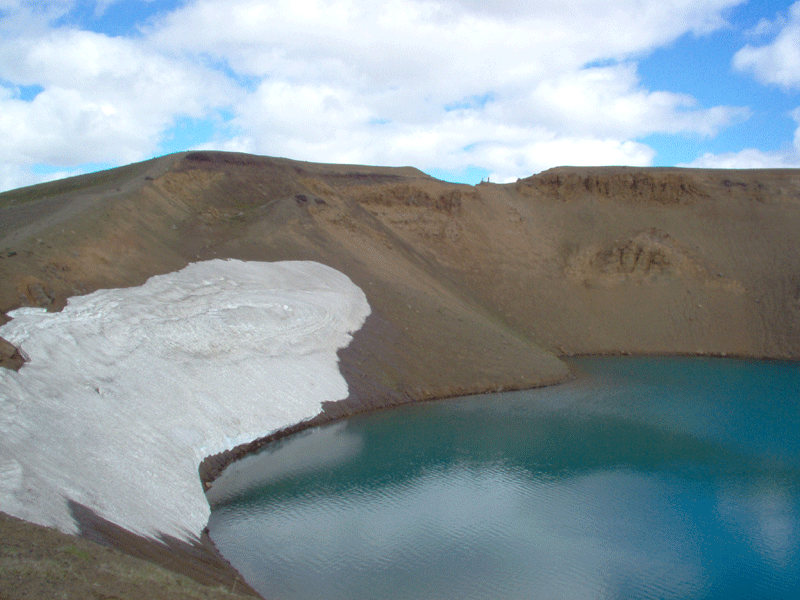 Viti in the Krafla area (1724).